What are Emergency Alerts?
How do I get text alerts?
What type of notifications are sent?
How will I receive the notifications?
When will notifications be sent?
How many messages will I receive per month?
I AM a current credit student or employee, how do I update my name, primary phone, cell number or college email address?
I AM NOT a current credit student or employee, can I still receive notifications?
I AM NOT a current credit student or employee, can I still modify my account preferences?
I never modified my preferences, what are the default settings?
How do I "opt-out" of different types of messages?
I accidentally opted out of text messages, how do I opt back in.
Is this service free?
If I receive an EMERGENCY ALERT, who do I call for more information?
How do I change my password?
What if I forgot my password?
Can I add my parent(s), relative(s), or someone who picks me up to this service?
Who do I contact for help?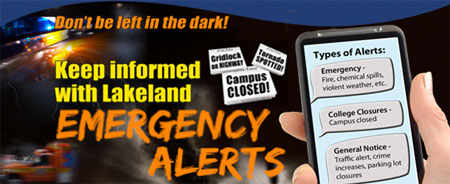 Types of Notifications
The Lakeland Emergency Alerts powered by SchoolMessenger is independent from any other college system. The Lakeland Police Department will be responsible for authorizing use of the emergency notification system. The following are not mandatory notification situations and are not limited to the examples listed below.

EMERGENCY Notification
Extreme severe weather emergency


Example: Tornado in area, Sheriff issued snow emergency, etc - this will not include general weather watches.

Dangerous gas leaks, chemical spills or biological hazards on or around campus
Confirmed, uncontrolled fire on campus or in a campus building
Violent episode


Example: bomb threat, terrorist incident, active shooter, etc.
College Closing
Any complete school closure
Includes main campus, Lakeland East campus in Madison or the Holden University Center
General Police Notification