AROUND CAMPUS

A Message from the President
On October 1, tragedy struck Umpqua Community College in Roseburg, Oregon with the shooting deaths and injuries of numerous students. Our thoughts are with the students, their families and the community at large impacted by this attack.
Such violent acts are a reminder of the dangers we face all too often in our world today. Understandably, events such as these can evoke an emotional response and heighten concerns about our own safety.
Each college campus has its own set of issues to address to help protect the lives of those attending classes, teaching in those classes, or providing support for a learning experience. As a community college, Lakeland has the challenge of being an open campus where people from the community frequently visit, and our students are constantly coming and going.
There is no single or simple solution to the complex challenge of providing a safe environment. An effective system of safety measures recognizes that danger can come in many different forms, and incorporates strategies for each. Fortunately, we at Lakeland have many resources to maximize our safety.

Walk-in Counseling
Students wishing to speak with a professional counselor or the school psychologist may do so on a walk-in basis (no appointment needed) during the week of October 5, between the hours of 9 a.m. and 5 p.m., Monday-Friday.
RELATED LINKS:
Counseling Center

Campus Watch
The Campus Police department coordinates a college-wide effort to protect students, faculty, staff and visitors known as the "campus watch" program. It is similar in nature to the block watch program found in many local communities.
Part of an effective safety program is the awareness of all involved to be ever alert for suspicious behavior or events. Our shuttle bus drivers are an integral part of this initiative, reporting strange or unusual activities around campus when encountered in their many trips throughout our property in the course of a day.
RELATED LINKS:
Police Services

Emergency Alerts
All students have been automatically enrolled in School Messenger, our emergency alerts system. This system will be used to inform you of emergency situations via phone and email.
Emergency alerts are available via voice, email, and SMS text message to the primary phone number, cell phone number and college email address on file for each student. You have the option of adding additional email addresses, phone and text numbers.
Additionally, the College utilizes a variety of means to notify students of emergencies. Depending on the location, the notification may be made via announcement over the fire alarm system or reverse 911 messaging on campus phones.
RELATED LINKS:
School Messenger
Reporting Emergencies, Unusual or Suspicious Circumstances
We advise all students to add the Campus Police phone number (440-525-7241) to their cell phones for quick retrieval in the event of an emergency. If an employee or student dials 911 instead of 440-525-7241, the external county emergency operations dispatcher will answer and route help accordingly.
Our C.A.R.E. team (acronym for Consultation, Assessment, Referral, and Education) is part of the College's proactive approach to crisis management. The primary objective of the C.A.R.E. team is to connect the dots relating to potentially dangerous situations before violence occurs, without violating student or employee confidentiality, and to enhance the quality of communication between student support professionals working at the College.
It is designed to detect and assess persons in crisis and incidents, and then coordinate a community-based response to the situation if applicable. The C.A.R.E. team members receive information in the normal course of their daily roles at the College and members can be contacted individually by concerned students and staff. The C.A.R.E. team includes:
Chief of Police and Director for Public Safety, 440-525-7330;
Psychologist Ken Browner, 440-525-7205;
Assistant Provost for Enrollment Management Bill Kraus, 440-525-7828;
Associate Vice President for Student Development and Dean of Students Rich Novotny, 440-525-7358;
and several other members, including highly trained counselors and police officers.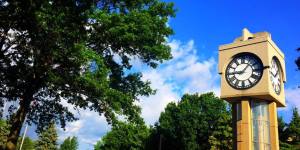 Improvements to the Campus Infrastructure
We have outstanding technology in our safety systems, and are continuously looking for ways to improve. Nearly 200 cameras at interior and exterior locations across campus are monitored at the Campus Police central dispatch desk. As we build and renovate buildings, more and more areas are being converted to access via programmed identification card, meaning the police can quickly shut down access to a room.

Campus Emergency Management Plans and Ongoing Training
We constantly update our emergency management plans independently and in conjunction with local police departments with whom we have reciprocal aid agreements. Campus Police conducts emergency drills and ensures that our officers participate in relevant training, including active shooter training. In the past year, Lakeland served as the host site for experts to provide training of this nature for both our officers and those of surrounding departments.
Students are encouraged to take advantage of the many personal safety presentations given throughout the year by our police department. Over the course of the next week, Campus Police will make available additional information related to your safety and recommended actions in the event of an active shooter.
What You Can Do...
While acts of violence on college campuses are very rare, we can never take for granted our own safety. Events like those of last week serve as a reminder that we live in a world in which tragedy can occur at any place and any time. Campus safety is an on-going challenge, and we need your help to make Lakeland as safe as possible. Here are some reminders of actions you can take to enhance your personal safety:
Verify that your contact information is accurate in School Messenger. If you need to make a change to a phone number, you should contact the Student Service Center (A-1003 / 440-525-7101). Students enrolled in a partnership program at the Holden University Center should contact a Navigation Desk employee at the Holden University Center.
Utilize the services of our Campus Police safety escort service. To request this service, contact Campus Police at 440-525-7241.
Be alert and aware. Don't hesitate to contact any of the individuals noted above if you observe behavior or something in your environment that seems unusual, inappropriate, or potentially dangerous.