DID YOU KNOW...
ALL of the events held during Spring Fling Week are FREE!
Tron Lazer Tag
Valley Exotics Zoo Day
Health & Wellness Fair
Indians Day
Casino Night - "Masquerade Madness"
Earth Week events
Frank Kitchen presentations
IMPORTANT LINKS
Athletics
Bookstore
Campus Kids Child Care
Career Services
Learning Center
Library
Men's Center
Women's Center
STUDENT ENGAGEMENT & LEADERSHIP
The Office of Student Engagement & Leadership offers a variety of opportunities for students to "GET INVOLVED" in campus life, meet new friends, and learn life skills. There are over 30 student organizations that represent academic, sport/ recreational, religious or personal interest groups. For more details, stop by Student Engagement & Leadership in S-237.
Student Engagement & Leadership Website
WHAT'S HOT!

Special Spring Fling Edition
This special edition of the Campus Connection will highlight all of the exciting events taking place at Lakeland during Spring Fling Week, April 20 - April 24.

Spring Fling Week is designed to help you reduce stress before finals and celebrate the end of the year!

CAB's Spring Fling Week!
Sponsored by the Campus Activities Board

Monday, April 20: Tron Lazer Tag
noon - 4:00 p.m.
in the AFC, Y-Building (Main Gym)
This massive inflatable dome holds up to 10 players per game and will allow you to test your strategy by making moves around various soft obstacles. TRONsystem's special effect lighting creates an amazing star wars-like atmosphere.

Tuesday, April 21: Valley Exotics Zoo Day
11:00 a.m. -1:30 p.m.
in the AFC, Y-Building (Multi-Purpose Gym)
Have you ever held a baby kangaroo, sugar glider, turtle, or snake? This is your chance to see and learn about unique animals!

Wednesday, April 22: Health & Wellness Fair
10:00 a.m. - 1:00 p.m.
Student Center Atrium
Participate in free screenings, health-related giveaways, sample free healthy foods & learn more about the various local health organizations and student clubs that are participating in the fair.

Thursday, April 23: Indians Day
10:00 a.m. - 1:00 p.m.
Student Center Atrium
FREE Popcorn! Prize and ticket giveaway!

Cleveland Indians Ticket Giveaway!
The Campus Activities Board will be giving away Cleveland Indians tickets for the home game on Friday, May 1 vs. the Toronto Blue Jays. Be on the look out for ticket opportunities through CAB's Twitter page @LCC_CAB and Facebook page Lakeland Campus Activities Board (C.A.B), the Lake Effect Radio station, or by spinning the prize wheel during Spring Fling Week.

*Students may obtain tickets in groups to ensure seats are next to each other.

*Additional tickets may be purchased for $17 while tickets last.
Casino Night - "Masquerade Madness"
Sponsored by Lakeland Student Government

CASINO NIGHT - "Masquerade Madness"
Friday, April 24
8:00 - 10:00 p.m.
First floor of Breakers

This event is free and open to the community! Play assorted casino games, dance to a fun DJ, free photo booth, win prizes, free snacks!

Student Leader Elections
Vote online at my.lakelandcc.edu!
Vote to elect your representatives to Lakeland Student Government and Campus Activities Board. Student Leader Elections will be held Tuesday and Wednesday, April 21 & 22. To vote online, follow these easy steps:
Log on to my.lakelandcc.edu (click on the link below for easy access)
Click on the Department tab
Listed under Support click Student Engagement & Leadership
Located under the VOTE icon, click View Candidates and Vote Now! and follow the simple instructions.
For more information, contact the Office of Student Engagement & Leadership at 440-525-7271.
AROUND CAMPUS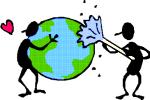 Earth Week Events at Lakeland
Nature Hike, Monday, April 20, noon - 1:30 p.m. Come explore the woods on campus. Meet at the Mind Ladders sculpture outside of the S-Building.
Campus Cleanup, Wednesday, April 22, 10:30 a.m. to noon. Grab your gloves and help us rid the campus grounds of tossed trash. Participants will receive a free T-shirt and be treated to a free lunch. Sign up in the Student Engagement and Leadership office (S-237) or with Mary Topolski at Ext. 7271 or mtopolski@lakelandcc.edu.
Free movie screening "Spirited Away," Wednesday, April 22, 12:15 - 2:30 p.m. This anime film follows the story of a young girl who is moving to the Japanese countryside with her family. When the family takes a wrong turn, it leads to a string of events that force the young girl to be courageous and strong. Attendees will receive free pizza and salad for lunch. Sponsored by Lakeland's Anime Club.
Waste Audit, Thursday, April 23, 9:30 - 10:30 a.m., Room S-006 (receiving dock). If you don't know what a waste audit is, then join us! We'll learn about the waste that the college produces. You will also learn how you can be more aware of what can be recycled.
The student Green Group will also have an information table about sustainability Wednesday and Thursday. Stop by to learn more.
For more information, contact Linda Daly at Ext. 7237.

Inspirational Speaker & Author: Frank Kitchen
Lakeland's Men's Resource Center presents:
"Turning Your Dreams Into Reality"

Inspirational speaker and author, Frank Kitchen, will share stories, along with his F.R.E.S.H. and Creative Knowledge techniques, to inspire you to live your personal and professional dreams. He will have you laughing and learning at the same time.

Sponsored by the Men's Center Pathfinder Program.

REGISTER TODAY! Call 440.525.7452 to pre-register and to be entered for a chance to win a free, autographed copy of Frank's latest book, Fresh From The Kitchen. It is also available for sale in the Lakeland Bookstore.

Wednesday, April 22
7 - 8:15 p.m.

Thursday, April 23
3:30 - 4:45 p.m.

Lakeland Community College
H-Building, Room H-101

This event is free. It is made possible through a grant from the Diversity Committee at Lakeland Community College.
MARK YOUR CALENDARS

April 21 - 22, 2015
Student Leader Elections
Vote online at mylakelandcc.edu

April 22, 2015
Earth Day

April 24, 2015
Last day to withdraw from second spring session