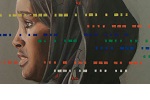 Art Exhibit, Documentary Film and Panel Discussions Bring Attention to the Strength and Resilience of Refugees

The Columbus Crossing Borders Project is a unique and beautiful art exhibit and documentary film relating to the record high numbers of refugees and displaced persons across the globe.
Join us to view this exhibit, watch the documentary film and hear panel presentations which include Lakeland students who originally arrived in the US as refugees.

Tuesday, 1/24 from 11:30 - 1 p.m.
Wednesday, 1/25 from 11:30 - 1 p.m. & 5 - 7 p.m.
All programs are in the art gallery.
The exhibit includes the works of 34 artists depicting stories shared by refugees, offering small windows into their personal struggles. In addition to painting a canvas, each artist was asked to "cross the border" in an act of artistic symbolism. The artists selected one element from their own painting and added it to the next canvas. As the exhibit moves from left to right, each painting contains an element that reaches into the painting beside it, linking all the paintings in a unique way.
The film, Breathe Free, interviews the artists and also gives the audience an intimate look into the arduous journeys of refugees who are willing to share their stories. The film pays tribute to the resilience, strength of spirit and devotion that sustains those who have lived through such hardship.
Many teachers are giving extra credit for students to attend. Ask your teacher if your class qualifies!
"Columbus Crossing Borders is important for our campus because it is about learning through art," says Gloria Lane, manager of the Women's Center. "It is an interdisciplinary experience in understanding and compassion. It is about realizing that we have a shared humanity even with those whose experiences are completely different from our own."