QUOTE OF THE MONTH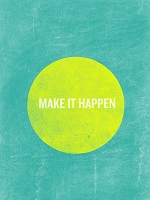 "Learn from yesterday, live for today, hope for tomorrow. The important thing is not to stop questioning." -Albert Einstein
TRIVIA CHALLENGE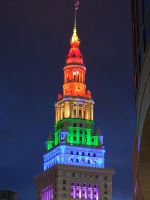 Win $10 to Breakers!
September Trivia Question:

The Terminal Tower's external lights include how many LEDs that can be configured into various color schemes throughout the year?

The first student to e-mail the Office of Student Engagement & Leadership at getinvolved@lakelandcc.edu with the correct answer from their Lakeland e-mail account will win a $10 Breakers gift certificate!
IMPORTANT LINKS
Athletics
Bookstore
Campus Kids Child Care
Career Services
Learning Center
Library
Men's Center
Women's Center
STUDENT ENGAGEMENT & LEADERSHIP
The Office of Student Engagement & Leadership offers a variety of opportunities for students to "GET INVOLVED" in campus life, meet new friends, and learn life skills. There are over 30 student organizations that represent academic, sport/ recreational, religious or personal interest groups. For more details, stop by Student Engagement & Leadership in S-237.
Student Engagement & Leadership Website
WHAT'S HOT!

Connect Fest
Wednesday, September 12
11 a.m. - 1 p.m.
Lakeland Library, third floor C-Building

Join us to:
-Meet with faculty and staff
-Learn about degrees, programs, departments, courses, student programs, resources and services.
There will be pizza, refreshments, games, and prizes!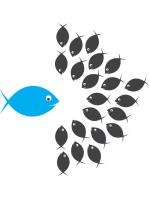 Emerging Leaders Program - Application
Lakeland Community College's Emerging Leaders Program is a two-semester program designed to introduce students to leadership skills and techniques that can be transferred to the workplace, student organizations and other leadership opportunities on campus. This program focuses on the development of leadership qualities within student participants, as well as providing opportunities to build a strong network of contacts.
Program Benefits:
Cultivate a sense of self-awareness
Network and develop relationships
Enhance communication skills
Learn differences in leadership styles and discover your personal strengths
Build individual confidence
Explore diversity
Understand ethical decision making strategies
Gain eligibility for $100 tuition scholarship upon successful completion of the program
Applications are accepted online through Friday, September 7, 2018. Click the link below and log in to myLakeland to apply.
If you have any questions or experience any issues with the online application, please do not hesitate to contact:
Christina Corsi
Assistant Director of Student Engagement & Leadership
ccorsi3@lakelandcc.edu
440.525.7226
RELATED LINKS:
Emerging Leaders Application
Financial Resources Showcase
Stop by the second annual Financial Resources Showcase to learn about the services available to help you get through college and ease your financial burden. There will be free food, games and prizes!

September 24 & 25
11 a.m. - 1 p.m. & 4:30 - 6 p.m.
Student Center Atrium & Bookstore Hallway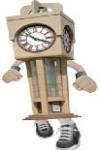 Clocktower Run
Sunday, September 30, 2018 at 8:30 a.m.
5K RUN with chip timing
5K FUN WALK (Leashed pets welcome!)

Where: Lakeland Community College
7700 Clocktower Drive
Kirtland, OH 44094
Registration/check-in at the clocktower

Schedule: 7:30 a.m. Registration / 8:30 a.m. Race Begins / 10 a.m. Awards

Cost: $15 for students & walkers / $20 for 5K runners prior to race day / $25 on race day

5k Age Divisions: 12-under / 13-19 / 20-29 / 30-39 / 40-49 / 50-59 / 60-69 / 70 & up

Event Includes:
T-shirts for first 200 registered
Refreshments/Prizes for 5K men & women top finishers in each age group
Awards for top three 5K winners overall
The proceeds from the race will benefit the Lakeland Staff Association Endowed Scholarship Fund. Each year the LSA awards scholarships to deserving students.

For more information, contact: Suzanne Speyer at 440.525.7492 or
sspeyer@lakelandcc.edu
RELATED LINKS:
Clocktower Run information
CLUBS IN ACTION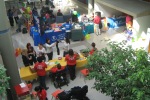 Student Involvement Fair
If you would like to "Get Involved" outside of the classroom, stop by the Student Involvement Fair to learn about the many diverse student organizations at Lakeland.

September 18 & 19
10 a.m. to 1 p.m.
Student Center Atrium & Bookstore Hallway

This is your opportunity to talk to current student club members and pick up information that may be of interest to you, learn more about Lakeland Student Government (LSG) and Campus Activities Board (CAB), or find out how to start a new student club on campus. For more information, contact the Student Engagement & Leadership Office at 440.525.7271 or stop by S-237.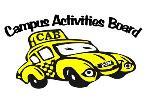 Campus Activities Board (CAB)
CAB meets every Wednesday at 10 a.m. in S-224. Join CAB and help plan fun events and activities for the students. CAB brings to campus comedians, hypnotists, free movies, game shows, free food, music and fun! Meet new people and make new friends.

Connect with CAB on Facebook, Instagram, Twitter and Snapchat: @LakelandCAB

Lakeland Student Government (LSG)
LSG meets every Monday at 11 a.m. in S-226. Join LSG and become a "voice for the students". There are many benefits you can receive by joining LSG, including enhancing your leadership skills, making new friends and representing the students on college committees.

Connect with LSG on Facebook, Instagram and Twitter: @LCCStudentGov

Construction Management Club
Every Saturday from April 28 through June 2, Lakeland's Construction Management Student Organization volunteered for Habitat for Humanity in Wickliffe. The club demoed and reconstructed the side porch and the handicap ramp at the Provo House in Wickliffe. See photos below highlighting before, during and after the project.

Respiratory Therapy Bake Sale
September 5
9 a.m. - 5 p.m.
Bookstore Hallway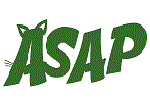 Active Society for Animation Preservation
Meetings:
Mondays at 3 p.m.
S-217
AROUND CAMPUS

Propel Ohio - Collegiate Leadership Summit
Propel Ohio is a leadership program that promotes civic engagement and inspires undergraduate students to grow into civic leaders in Ohio. The program features a one-day statewide conference on Friday, October 12 at Cleveland State University. Propel Ohio 2018 will actively engage college students on issues that affect childhood poverty, including food security, inequities in education, and homelessness.
If you are interested in representing Lakeland, please complete the application at the link below.
RELATED LINKS:
Propel Ohio Application

Lakeland Library
Need Research Help?
Schedule a one-on-one research appointment with a reference librarian.
Call 440.525.7425
Request forms are also available on myLakeland, library homepage.

Tech Time
Need help setting up a new device? Want to access digital resources? Set up an appointment for in-person instruction!
Access these free resources using your public library card:
eBooks
Digital audiobooks
Graphic novels
Music
Movies
Magazines
Contact 440.525.7424 or lakelandlibrary@lakelandcc.edu to set up an appointment.

Library Textbook Reserve
Need a textbook? Try the library!
440.525.7424 Third floor of C-Building, C-3051

Free Giveaway!
Find the library on the third floor of C-Building, C-3051, and receive a free giveaway now through September 7.

Success Tip
Being a commuter doesn't mean your college experience is less than someone's who lives on campus. In fact, your commute provides useful time to get things done, whether you choose to study, meditate, listen to a podcast, be productive in other ways, or even, make a new friend. Learn more tips on how to make your commute productive in Related Links.
RELATED LINKS:
How to Succeed as a Commuter Student: 18 Proven Tips
STUDENT SPOTLIGHT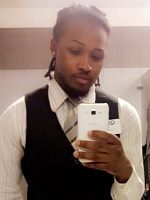 Quantez "Q" Spears
How long have you been a student at Lakeland?
I've been a student at Lakeland since spring 2017.
What is your major? Are you seeking a degree?
I'm majoring in respiratory therapy and getting my associate of science degree.
Do you plan to transfer to a four-year college/university? If so, which one?
I plan to go to the Holden University Center for allied health with YSU or BGSU.
Are you involved in any clubs or organizations? Do you hold an officer position?
I am vice chairperson of Lakeland Student Government and I'm part of the Pathfinders Advisory Council.
Are you a student worker? If yes, what department do you work in?
Yes, I am an orientation leader.
Do you have a job? Where? What are your job duties?
I am a phlebotomist at Lake Health Medical Center and a nursing assistant at Cleveland Clinic. My duties include patient care, drawing blood, and working with other medical staff.
What are your personal interests/hobbies?
I like going hiking, vibing with people, and listening to music.
Do you have any brothers/sisters? Pets (names)?.
I have an eight year old godchild named Kaylee who means the world to me.
MARK YOUR CALENDARS

September 7, 2018
Last day to withdraw from a class for 50% refund for full or first 8-wk session

September 7, 2018
Last day to request satisfactory/unsatisfactory option for first 8-week session

September 7, 2018
Emerging Leaders Application Due

September 12, 2018
Connect Fest
11 a.m. - 1 p.m., Library

September 17, 2018
Constitution Day and Citizenship Day

September 18 - 19, 2018
Student Involvement Fair
10 a.m. - 1 p.m., Student Center Atrium

September 21, 2018
International Day of Peace

September 21, 2018
Last day for textbook refund with drop slip and schedule

September 21, 2018
Last day to request satisfactory/unsatisfactory option full fall session

September 26, 2018
Tuition loan plan, first installment due for fall

September 30, 2018
Clocktower Run