QUOTE OF THE MONTH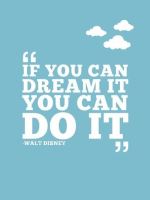 "Education is the key to unlock the golden door of freedom". -George Washington Carver

DID YOU KNOW...

Cinco de Mayo - May 5
(Spanish for "fifth of May"). A day of celebration held on May 5th in the U.S. and regionally in Mexico, primarily in the state of Puebla, where the holiday is call El Dia de la Batalla de Puebla (English: The Day of the Battle of Puebla). It originated with Mexican-American communities in the American West as a way to commemorate the cause of freedom and democracy during the first years of the American Civil War, and today the date is observed in the U.S. as a celebration of Mexican heritage and pride.
TRIVIA CHALLENGE

Congratulations
to all the trivia contest winners for fall and spring semesters. This is the last issue of the Campus Connection E-newsletter for the 2015-2016 academic year.

Remember to check out the first issue of the 2016-2017 Campus Connection in August for a chance to be the next trivia challenge winner!

Congratulations to last month's winner, Jeffrey Prock. The correct answer is seven events comprise a heptathlon.
IMPORTANT LINKS
Athletics
Bookstore
Campus Kids Child Care
Career Services
Learning Center
Library
Men's Center
Women's Center
STUDENT ENGAGEMENT & LEADERSHIP
The Office of Student Engagement & Leadership offers a variety of opportunities for students to "GET INVOLVED" in campus life, meet new friends, and learn life skills. There are over 30 student organizations that represent academic, sport/ recreational, religious or personal interest groups. For more details, stop by Student Engagement & Leadership in S-237.
Student Engagement & Leadership Website
WHAT'S HOT!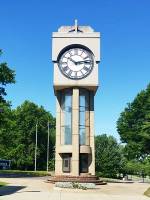 Campus Climate Survey
Based on the current state legislature, Lakeland Community College is required to administer a survey to our community that pertains to your sense of safety on campus. We take your sense of safety and wellness very seriously at Lakeland and encourage you to participate in the survey (link below).
After completing the survey, you will have the opportunity to enter a drawing for a chance to win a $50 Speedway card (20 winners will be selected)*. The questionnaire will take approximately 20-25 minutes to complete. Survey responses and raffle entries will be accepted through May 7th, 2016. Lakeland will not have any access to individual responses. Should you wish to enter the drawing, your contact information will remain completely confidential. The winner will be notified via Lakeland email address on May 13th, 2016.
TAKE THE SURVEY
We recognize that some of the questions might trigger emotional discomfort. If at any time during the survey you feel discomfort, simply log out and seek support.
To receive campus support please contact Richard Novotny, Dean of Students (rnovotny@lakelandcc.edu; 440.525.7358) if you are a student or Cathy Bush, Director for Human Resources (cbush@lakelandcc.edu; 440.525.7112) if you are an employee. As always, if you feel that you are in imminent danger please contact Lakeland Police or your local police department (440.525.7241) immediately.
We thank you greatly for your time and thoughtful responses regarding this important campus issue.
* Lakeland employees and College Credit Plus students are not eligible to enter the drawing or accept any prize winnings.
RELATED LINKS:
TAKE THE SURVEY NOW!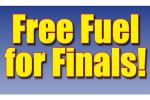 Free Fuel for Finals
Free pizza and hot dogs for students!
Sponsored by the President's Office

Monday, May 9 and Tuesday, May 10
11 a.m. - 1 p.m. & 4:30 p.m. - 6 p.m.
Student Center Atrium

Commencement Ceremony
Lakeland's 49th Annual Commencement Ceremony will be held Saturday, May 14 at 10 a.m. Graduates must report to the Dr. Wayne L. Rodehorst Performing Arts Center (Building D) dressed in cap and gown no later than 8:30 a.m. This year's commencement address will be given by Senator Rob Portman.

Commencement is held outdoors in a spacious sheltered pavilion located in the northwest parking lot across from the Athletic & Fitness Center. All guests must present a commencement guest ticket to enter the facility. A complimentary graduate reception will be held in the Athletic & Fitness Center immediately following the ceremony. For more information, contact Janet Post at 440.525.7744.

NOTICE: The eastern two-thirds of the North parking lot will be closed starting May 4, in preparation for Commencement. Please plan to use other parking lots while this lot is closed. Lot is expected to re-open no later than May 31.

2015-2016 Student Organization Awards
Congratulations to the following recipients of this year's student organization awards presented at the annual Student Leader Awards Banquet held Friday, April 29:
Lakeland Student Government Chairperson's Award -John Babyak
Campus Activities Board Outstanding Service Award -Kenny Hilston
Program of the Year -
Small scale: "Great Lakes Science Center Visit" -The Science Club
Large scale: "NyanCon" -Anime Anonymous
Pioneer of the Year -Nelson Brodhead, Student Veterans of America
Organization of the Year -Anime Anonymous
Advisor of the Year -Dr. Chris Skubby, Model UN/NATO
Outstanding Student Organization Members:
Natalie Flack (Anime Anonymous)
Matt Joos (Campus Activities Board)
Erica Alford (Gamer's Guild)
Emily Kennedy (Lake Effect Radio)
Evangeline Miller (Lakeland Karate Club)
John Babyak (Lakeland Student Government)
Dan Smith (Model UN/NATO)
Madeline Cooper (Science Club)
Joy Severa (Sigma Kappa Delta)
Lovii Hicks (Lakeland Student Veterans of America)
CLUBS IN ACTION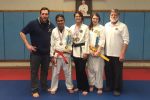 Lakeland Karate Club
The Lakeland Karate Club is in its 40th year under Shihan L. Feldman, this makes it one of, or the longest continuous running club at Lakeland. The Karate Club has had, and continues to have its members receive many awards and honors. Recently, Shihan L. Feldman earned his Kudan certification (9th degree black belt), which makes him one of the highest ranking members of the Kwanmukan Karate Society. He is also active in the USA Karate Federation, which is the national governing board for karate in the USA Olympic structure.
Recently several club members competed at the North Coast Karate Championship on April 17th. Sarah Thompson (treasurer) took gold in ne wasa (grappling), 3rd in jujitsu, and 4th in kumite (sparing). Member Anna Seymore took home gold in kata (forms) and member Lean Karlo Almeda took 2nd in kata and 3rd in kumite. Sarah Thompson also competed in Paris, France on the US Jujitsu Team in 2014, and at the USJJO (United States Jujitsu Organization) Nationals in Las Vegas in 2015. She took home 2nd place in ne wasa and 2nd place in jujitsu at the Las Vegas tournament. President Joseph Stillisano also took home medals at this tournament. He earned 2nd place in heavy weight ne wasa. Together both of them took home 2nd place in Duo, a partner competition.
The Lakeland Karate Club continues to prepare for more upcoming events. For more information on the club or events, President Joe can be reached at stillisanojg@gmail.com or Treasurer Sarah at karatetreasurer@yahoo.com
AROUND CAMPUS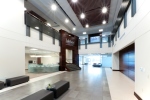 Holden University Center
Lake Erie College
Parker MBA Information Session
Monday, May 2
6 p.m.
Lakeland's Holden University Center
Humanities Information Session
Monday, May 9
6 - 7 p.m.
Join us to learn how you can transfer your college credits into the Ursuline College Bachelor of Arts in Humanities offered at Lakeland's Holden University Center.

YSU Master of Social Work Information Session
Tuesday, May 10
6 - 7 p.m.
Join us to learn how you can transfer your Bachelor of Social Work into YSU's Master of Social work, offered at Lakeland's Holden University Center.

Lakeland Library
The 29th Annual Poetry Competition Awards
Tuesday, May 3 at 7 p.m.
Lakeland Library
Readings from the guest judge Caryl Pagel, author of Twice Told and Experiments I Should Like Tried at My Own Death, co-founder of Rescue Press and Director of the Cleveland State Poetry Center.
Call 440.525.7424 for more information.

Book Discussion Group
Read the book and join us to discuss: "A Man Called Ove - A Novel" by Fredrik Backman.
Tuesday, May 24 at Noon
Room C-2058, second floor of C-Building
FREE and OPEN to everyone!
Call 440.525.7424 for more information.

Jewelry and Metals Display at Lakeland Library
April 26 - May 25
Stop by the library to see jewelry pieces created by students of the Jewelry/Metals course (ARTS 2275). In this three credit course you will learn how to design and make rings, bracelets, necklaces, earrings, and more. Techniques include soldering, surface texturing, lost wax casting, and enameling. For more information please call 440.525.7424.
Success Tip
5 critical skills every new college graduate should have

Commencement represents one of your best accomplishments in life. When you reflect back on your educational path, most likely you'll recall that it was a challenging journey. Those challenges are what helped you develop various skills— like perseverance, self-management, problem solving, teamwork, integrity and the ability to communicate— that you can now take with you into a career. Recently, Jeffrey Selingo wrote an article for "The Washington Post", April 18, 2016, in which he describes the five critical skills every new college graduate should have. It's worth a read whether you are preparing to graduate May 14, or two years from now. After all, learning is for life. Learn more in Related Links.
RELATED LINKS:
5 critical skills every new college graduate should have

North Lot Closure
The North parking lot will be closed starting the morning of Wednesday, May 4 in preparation of Commencement activities.
MARK YOUR CALENDARS

May 7 - 13, 2016
Final Exams

May 9 - 13, 2016
Book Buyback

May 9 - 10, 2016
"Food for Thought"
5 - 9 p.m.
Library

May 14, 2016
Commencement
Outdoor Pavillion near AFC
10 a.m.

May 16, 2016
Library Summer Break Hours Begin
Mon-Fri, 8 a.m. - 5 p.m.

May 17, 2016
Grades posted on transcript

May 23, 2016
First summer 5-week session begins

May 23, 2016
Deadline for Standards of Academic Progress Appeals for first summer session

May 25, 2016
Financial Aid freeze date for first summer session

May 30, 2016
College Closed

May 31, 2016
Last day to request satisfactory/unsatisfactory option for first summer session