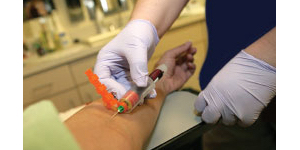 VIRTUAL EVENT - PHLEBOTOMY INFO SESSION
If you want a quick entry into a health care field, look into the two-semester phlebotomy certificate program.
Sign up for our virtual info session, Friday, June 19, at 12:30 p.m. to find out when you can begin.
Presenter Kathy Davies MSHS, MT (ASCP), the program director for this program, and will share how our communities are in need of skilled people to draw blood samples from patients in order for tests to be run.
Sign up to register today using the link below, and we'll send you a reminder shortly before it starts. If you can't make it we'll send you a link to the recording.

RELATED LINKS:
Yes -- I'd like to attend the info session!