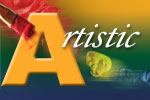 A Peek at the Unique
This fall, the Gallery at Lakeland will impress guests with quite an array of unique pieces. On display now in the gallery are the amazing works submitted in a juried exhibition for local artists. Soon after, unusual and fanciful art graces the "Skeleton" show - a fan favorite. And this year, guests can meet the extraordinary artists and join in the fun at a costume party reception.
Later in the fall, the gallery hosts the beautiful, one-of-a-kind works submitted by the talented professors in Lakeland's fine arts department. This show provides a glimpse into the variety of techniques taught at the college to students and any member of the community interested in connecting with their creative side.
Last, for anyone looking for something totally different to give as a gift this holiday season, the artists market is the place to be.
Aug. 2 - Sept. 11
"Lake County Creative Artists Association"
Sept. 24 - Nov. 6
"The Skull and Skeleton in Art IV: Folk Art to Pop Culture"
Curated by Mary Urbas
Costume Party Reception and Boneyard Market: Thursday, Oct. 29, from 7 - 9 p.m.
Nov. 15, 2015 - Jan. 22, 2016
"Lakeland Community College Visual Arts Faculty Exhibition"
Artist Reception:
Thursday, Nov. 19, from 7 - 9 p.m.
College Closed:
Nov. 26 - 29, 2015
Dec. 24, 2015 - Jan. 3, 2016
Monday, Jan. 18, 2016
Nov. 30 - Dec.
"9th Annual Holiday Artists Market"
10 a.m. - 3 p.m.
Located in the A-Building Atrium Hallway
Proceeds to benefit the Annual Visual Arts Student Exhibition
All exhibitions are free and open to the public.
Gallery Hours:
Monday - Firday, 9 a.m. - 9 p.m.
Wekends, 9 a.m. - 5 p.m.
Contact Mary Urbas, gallery coordinator
440.525.7029
murbas@lakelandcc.edu
lakelandcc.edu/gallery