Celebrate #GivingTuesday With Us!
In an effort to promote the spirit of giving, The Lakeland Community College and The Lakeland Foundation have joined #GivingTuesday, a movement that will transform how people think about, talk about and participate in the giving season.
Taking place Dec. 2, 2014 – the Tuesday after Thanksgiving – #GivingTuesday will harness the power of social media to create a national moment during the holidays dedicated to giving, similar to how Black Friday and Cyber Monday have become synonymous with holiday shopping.
We hope that you will support Lakeland, and you can do this in more ways than one. Yes, we've made it easy to make a donation with a few clicks of your mouse. Go to www.lakelandfoundation.com for more information or click the link below to make a donation. You can also find us on your favorite social media site. More information on that can be found below.
RELATED LINKS:
DONATE NOW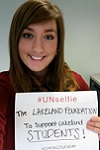 Show Us Your "UNselfie"
On Dec. 2 or any day leading up to it, take an "UNselfie" and share it! Tell the world what you love about Lakeland or why you are donating. Encourage everyone you know to support Lakeland and its students. Post a message about #GivingTuesday and show your Lakeland love.
Not into selfies? That's OK! Help us by sharing our posts about the day. Spreading our message is a great way to show your support. But most importantly, thank you for supporting our students!
To download your "unselfie" sign, please click on the link below.
RELATED LINKS:
UNselfie SIGN
Find Us and Share Our Posts
So you want to follow us on social media? Thinking about tagging us in your post or sharing ours? That is fantastic! Here's where to find us:
Like & follow our Facebook pages:
Follow us on Twitter
Join our group or check out our page on LinkedIn:
Lakeland Community College Alumni & Friends Network
One more link... To make a donation to help with the greatest need, please donate here.
We are so glad to connect with you. Let's share the good news about what Lakeland, our student and our alumni are doing to make Northeast Ohio and the world a better place.