SPECIAL EVENTS

December 18 - 20, 2018
Learn something new in HIVE
Sign up for workshops in Lakeland's maker space.
at HIVE in the H-Building
MORE INFO...

January 14, 2019
The Monday Book Club
The Monday Book Club is a partnership between Morley Library and Lakeland Community College Library. The Monday Book Club meets on the second Monday of each month. No registration is required.
2 p.m.
at Holden University Center, Room 202
MORE INFO...

January 22, 2018
Book Discussion Group
Members choose books from different genres and read a selection every four-six weeks. Members take turns leading the discussion. Group discussion provides for a diversity of perspectives, making the discussions lively and rewarding experiences.
12 p.m. - 1 p.m.
at C-2058, on the second floor of C-Building
MORE INFO...

January 30, 2019
Holden University Center Night
Join us for a general information session. You will learn about the partnerships and programs offered through Lakeland's Holden University Center, explore the state-of-the art learning environments and find out how to get started.
6 p.m. - 7 p.m.
at Holden University Center
MORE INFO...

March 15 - 17, 2019
Lakeland's 47th Annual Jazz Festival
Save the date!
at Rodehorst Performing Arts Center


ALUMNI LINKS
Lakeland Alumni & Friends Network
The Lakeland Foundation
Lakeland Community College home page
Lakeland Community College YouTube channel
Like us on Facebook
Tweet to Lakeland @LakelandCommCol
Follow Lakeland on Instagram
ALUMNI & FRIENDS NETWORK NEWS
Making a difference in the lives of our students
"Yes is a powerful word.
The Lakeland community is thinking about the many ways a "yes" mindset can help us meet student needs and increase student success, which ultimately means community success.
When our students achieve their goals, we all win. When our children can affordably gain skills and college credits and transfer that into jobs and degrees, our community is elevated. When employers find workers with needed skills and students stay in the region, our future becomes brighter."
Bob Cahen, executive director at The Lakeland Foundation, shares an open letter with our alumni and invites you to say "yes" to Lakeland again.
RELATED LINKS:
READ THE LETTER TO ALUMNI HERE
THE LAKELAND FOUNDATION NEWS
Donor-Scholar Breakfast ~ Save the date!
While the snow is still flying, think spring and mark your calendars for our Annual Donor-Scholar Breakfast. This year's event will be held in the atrium of the new health technologies building Wednesday, April 3, 2019, from 8-9:30 a.m.
The Lakeland Foundation Annual Donor-Scholar Breakfast recognizes the generosity of Lakeland Foundation donors and celebrates the perseverance and success of our students. The event features student and guest speakers and provides a special opportunity for scholarship recipients and other students to meet and share their experiences and dreams with the donors who contribute to Lakeland Foundation scholarship and program funds.
The Lakeland Foundation currently manages more than 150 active scholarship funds and awards an average of $500,000 each year to hundreds of Lakeland students who need assistance to overcome the financial barriers to academic success.
In addition to scholarship funds, The Lakeland Foundation funds support various programs and activities that make a difference in the lives of Lakeland students. Foundation funds are supported by individual donors, private and corporate foundations, and local businesses.
Invitations and details will be coming soon. Not a donor but interested in becoming one? Please use the link below to our donation site. We hope to see you there!
RELATED LINKS:
SUPPORT LAKELAND STUDENTS AND PROGRAMS
LAKELAND COMMUNITY COLLEGE NEWS
Lakeland takes steps to offer student housing on campus
Lakeland plans to boost student retention, enrollment and revenue by offering student housing on campus starting in August 2020.
Studies show that students who live on campus are more engaged and therefore more likely to complete their college education, leading to higher graduation rates. About 25 percent of two-year colleges in the U.S. now offer on-campus housing, according to data from the American Association of Community Colleges.
The college's board of trustees voted Dec. 6 to enter into agreements with Beyond Owners Group, Inc., a Pennsylvania nonprofit corporation, to assist in the development and financing of the project. The board is expected to vote on the final agreement at its February 2019 meeting.
RELATED LINKS:
MORE INFO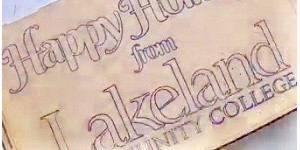 Holiday greeting from Lakeland
Lakeland's HIVE and maker space present a new, creative way for us to wish a happy holiday season to you and yours! Watch what can come to life with the latest technology. Follow the link below to see the video greeting shared on Lakeland's YouTube channel.
Did you know that Lakeland has a YouTube channel? After watching the video, check out the educational offerings posted by Lakeland.
RELATED LINKS:
WATCH LAKELAND'S HOLIDAY GREETING