SPECIAL EVENTS

July 9 - December 10, 2018
Monday Book Club
is a partnership between Morley and Lakeland libraries. On July 9, we will discuss "Shadows in the Vineyard" by Maximillian Potter. No registration is required. It's free and everyone is welcome. Click on the link for more dates and titles.
2 p.m.
at the Holden University Center, room U-202
MORE INFO...

July 18, 2018
Join the Book Discussion Group
Read the book and join in a discussion of "I, Eliza Hamilton" by Susan Holloway Scott. FREE and OPEN to everyone! Call 440.525.7424 for more information.
Noon - 1 p.m.
at the main campus, room C-2058, second floor of C-Building
MORE INFO...

July 22, 2018
Artbelt: New Art from the Rustbelt
This art gallery show is a unique collaboration between the famed rustbelt cities of Pittsburgh and Cleveland. Artists from both regions will diplay their pieces in The Gallery at Lakeland. The show is being curated by John Morris from Pittsburgh.
3:30 - 5:30 p.m.
at The Gallery at Lakeland
MORE INFO...

July 25, 2018
Holden University Center Night
Join us for a general information session. You will learn about the partnerships and programs offered through Lakeland's Holden University Center, explore the state-of-the art learning environments and find out how to get started.
6-7 p.m.
at Holden University Center
MORE INFO...

September 7 - 30, 2018
Lakeland Civic Theatre presents "A Little Night Music"
For his 50th production, Director and Stephen Sondheim aficionado Dr. Martin Friedman will present the classic "A Little Night Music" in the Dr. Wayne L. Rodehorst Performing Arts Center. This musical has won the Tony Award, Grammy Award, Drama Desk Award and many others.
7:30 p.m. evening performances, 2 p.m. matinees
at Dr. Wayne L. Rodehorst Performing Arts Center
MORE INFO...


ALUMNI LINKS
Lakeland Alumni & Friends Network
The Lakeland Foundation
Alumni Hall of Fame Nomination Form
Lakeland's Transfer Center - for help continuing your eduction
ALUMNI & FRIENDS NETWORK NEWS
Seeking nominations for the alumni hall of fame
Do you know a Lakeland graduate who stands out for their personal accomplishments, career achievements or service to their community?
Nominations are being accepted for the 2018 Lakeland Alumni Hall of Fame. This award honors alumni who personify the college's tradition of excellence, bringing distinction to themselves and their alma mater through their outstanding achievements and their commitment to Lakeland and the community at large. Established in 2006, the hall of fame has inducted 59 graduates.
The Lakeland Alumni Hall of Fame committee has established the following criteria:
Nominees must be Lakeland Community College graduates (associate degree or certificate attainment).
Nominees must have graduated in 2008 or earlier.
Nominees must demonstrate career success.
Nominees must demonstrate a strong record of community involvement and leadership in community programs and/or a significant interest in and contribution to Lakeland and its programs.
The deadline for nominations is Friday, July 20. Please click on the link below to complete an online nomination form.
Inductees will be honored at a reception at Lakeland on Oct. 2, 2018.
You can also contact Laurie Principe at lprincipe@lakelandcc.edu or Jen Smyser at jsmyser@lakelandcc.edu to request a paper copy of the nomination form.
RELATED LINKS:
Click here to nominate a graduate.
Help us plan future alumni events!
The Lakeland Alumni & Friends Network is currently planning events for the 2018 - 2019 academic year. We would love your feedback on what is important to you.
Please take a few minutes to complete the survey (link below) and help us plan engaging, entertaining, and helpful events. The survey is confidential and anonymous. At the end of the survey, you will be directed to a separate form to enter your contact information for the alumni & friends e-newsletter. All contact information will remain separate from your survey responses.
The survey will be open through July 17, 2018.
Thank you in advance for your responses! Please feel free to contact Jen Smyser at jsmyser@lakelandcc.edu if you have any questions regarding the survey.
RELATED LINKS:
Take the survey now!
LAKELAND COMMUNITY COLLEGE NEWS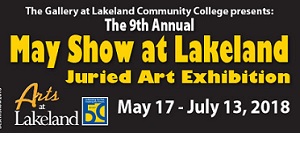 Ninth annual May Show features juried art exhibition
Stop by The Gallery at Lakeland in D-Building to see the incredible art on display for the annual May Show. This is a juried exhibition that spotlights the talented artists from throughout Northeast Ohio. Admission is free. The show runs through July 13.
Regular gallery hours are Monday-Friday, 9 a.m. - 9 p.m., and Sunday and Saturday, 9 a.m. - 5 p.m.. The gallery is located on the main campus, in D-Building, first floor.
RELATED LINKS:
The Arts at Lakeland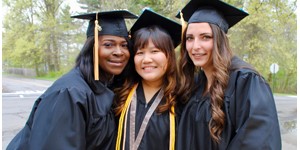 Former Browns head coach gives keynote at Lakeland commencement ceremony
Lakeland held its 51st annual commencement Saturday, May 12, with former Cleveland Browns coach Sam Rutiglianoserving as the keynote speaker.
More than 2,500 friends and family members attended the college's ceremony at an outdoor pavilion on campus.
Lakeland Commencement 2018 highlights include:
857 (as of 4/18) students received degrees.
The oldest graduate is 75; the youngest is 15.
90 college credit plus students representing 17 high schools graduated.
Holden University Center graduates from partner institutions numbered 137 undergraduate and 51 graduate students.
Lakeland's highest honor, the Distinguished Community Service Award, was presented to Marco Marcopoli, who served as professor and department chair for civil engineering, mathematics and physics at Lakeland from 1967-1995, was the first men's soccer coach for the college, and was later elected as mayor of Kirtland where he served for two decades from 1980-2000.
Click the link below to view the ceremony in it's entirety. Coach Sam's speech begins at the twenty minute mark.
RELATED LINKS:
Watch commencement on Youtube