SPECIAL EVENTS

September 22, 2016
Dreams & Visions: Surrealism and Fantasy Art
Fifty-four artists from coast to coast will exhibit work created in a variety of media. The show runs from Sept. 22 through Nov. 4. Gallery visits are free and open to the public. Curated by Mary Urbas.
7 p.m. - 9 p.m.
at The Gallery, main campus, building "D"
MORE INFO...

September 29, 2016
Ghost Gear - Debris in Our Oceans
Find out what one California group is doing about the global problem of human debris in the open ocean in a presentation by Captain Kurt Lieber, executive director and founder of the Ocean Defenders Alliance.
11 a.m. - 12:15 p.m.
at Room A - 2100
MORE INFO...

October 11, 2016
The Ohio Innocence Project - Free Lunch Presentation
Learn about the work of The Ohio Innocence Project and the triumphs of exonerees Raymond Towler & Dean Gillispie. Presenters include the exonerees and former Attorney General, Jim Petro and Nancy Petro. Sponsored by the Northeast Board of Advocates.
11:30 a.m. - 1 p.m.
at Dr. Wayne L. Rodehorst Performing Arts Center
MORE INFO...

October 27, 2016
CAB Halloween Party!
Join us for the annual party in the main gym. Children's activities will be offered first. Then the adult party will follow. As always, there will be food, a DJ, inflatables and lots of Halloween activities. Come in costume and plan for a good time.
6 - 8 p.m. for kids, 9 - 11 p.m. for adults
at Main Gym
MORE INFO...


ALUMNI LINKS
Arts at Lakeland Fall 2016 Exhibit and Performance Schedule
Alumni & Friends Network
The Lakeland Foundation
Like us on Facebook
Tweet to us on Twitter
Join our group on LinkedIn
LAKELAND COMMUNITY COLLEGE NEWS
50th Anniversary Brainstorming Survey
Lakeland will commemorate its 50th anniversary during the 2017-2018 academic year. Are you willing to share your opinions and ideas about how to honor our past and celebrate our future? If so, please complete a brief survey available in the link below.
The survey will be open until Sept. 30, 2016. We will also seek input from students, retirees, trustees and the other community members. The results will help shape the upcoming anniversary celebrations. Opportunities to volunteer on various 50th anniversary planning committees will be announced soon. We hope to hear from you!
RELATED LINKS:
Tell us what you think! Please click here to participate.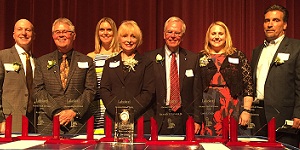 Alumni Hall of Fame Induction Ceremony
The Lakeland Community College Alumni & Friends Network has announced the 2016 inductees to the Lakeland Alumni Hall of Fame.

This year's inductees are:Neal Britton, class of 1983,Lori A. Caszatt, class of 2005,Richard T. Flenner, class of 1985,Irena L. Kenneley, Ph.D., class of 1977,John Racic, class of 1986,Katie Spotz, class of 2005, andJoseph G. Weber, Ph.D., class of 1986.

The award recognizes Lakeland graduates who personify the college's tradition of excellence, bringing distinction to themselves and their alma mater through their outstanding professional achievements as well as their support and commitment to the college and the community at large.

Inductees must have earned an associate degree, or certificate, from Lakeland, must have graduated at least 10 years prior to the nominating year, and must demonstrate career success.
RELATED LINKS:
Watch the ceremony on YouTube here.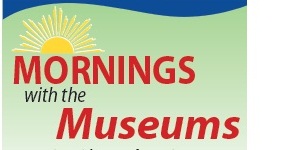 Mornings with the Museums
"The Geopolitics of the Russian - Ukraine Relationship" is presented by Lakeland Community College's Dr. Steven Oluic, Dean of Arts and Science and Lt. Col., U.S. Army (retired). The program includes a broad overview of the current tensions between Russia and Ukraine, how they relate to the European Union and NATO (the U.S.), discussion of Russia's role in the region and what is transpiring in Syria regarding Russian actions. Dr. Oluic completed a Fulbright seminar in Russia last April and will touch upon his experiences there. There will be time for questions following the presentation.
Mornings with the Museums will be held Friday, Oct. 14. at Lakeland's Holden University Center, located across the street from the main campus in Kirtland. Arrive at 10 a.m. for coffee and pastry. Parking is easily accessible at the Holden University Center or at Lakeland's main campus in the parking lot nearest to State Route 306 with complimentary shuttle service to and from the Holden University Center.
RELATED LINKS:
Register here!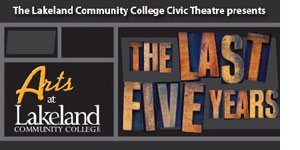 Fall Theater Production - The Last Five Years
Lakeland Civic Theatre presents"The Last Five Years"in the Dr. Wayne L. Rodehorst Performing Arts Center located in the D-Building on the college campus.
Should we start at the beginning or begin at the end?
This outstanding musical is a Drama Desk Award-winning play that takes an unconventional glance into the life and death of a marriage from two perspectives.
RELATED LINKS:
Schedule for The Last Five Years
Crafts for the Mansion
Stop by the largest craft fair in Lake County on Saturday, Oct. 22. Proceeds benefit the ongoing restoration and maintenance of the Mooreland Mansion and Gardens. Free parking and shuttle service will be available. Snacks and beverages will be offered for purchase.
Doors open at 9 a.m. All adults are $3.00 per person (no senior discount). Children under 12 are admitted free of charge. $1.00 off coupons can be found in the News Herald.
RELATED LINKS:
More details