NEWS YOU CAN USE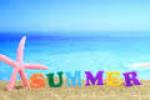 Things to think about this summer
Fifty-three percent of students who attend community college are first-generation students, meaning they are the first in their family to attend college. Were you a first-generation college student this year? Oftentimes, first-generation students can feel a bit lost as they navigate college—for that matter, so can any first-time college student! Regardless, this is probably the first time you had to deal with emotional, financial, physical, academic and time management stress in one way or another or even, all at once! What did you learn? What will you do differently or better next year to help you be the best student you can be?

Try this: resources that improve academic success
Fortunately, Lakeland provides many resources to all students in an effort to position them to be successful and persist toward completing their educational goals. If you didn't take advantage of academic success coaching or tutoring, consider giving them a try next fall. Also, be sure to check out the many services offered by Lakeland's Student Accommodation Center, the Counseling and Advising Center and the library. Another tip? Take some time this summer to review past issues of News You Can Use. All the topics were chosen with your success in mind. If they're sitting in your mailbox unopened, give them a read to see what you missed! Have a fun, safe summer and we'll see you next fall—ready to help you be the best you can be.

Breaking news—learning styles are out. This is what's in...
Conventional wisdom suggests that when you know your preferred learning style—visual, kinesthetic or auditory— and apply study strategies aligned to that style, you do better academically.
New research, however, found that students who used suggested VARK (learning preference assessment tool) study methods congruent with their preferred learning style didn't achieve a higher grade in class (Jarrett, par. 6).
If learning styles are more useful as a reflective exercise, what might a student rely on instead, to foster learning? According to the article, Another nail in the coffin for learning styles,The British Psychological Society Research Digest, April, 2018, "specific study strategies, such as practising microscope work and using lecture notes, were associated with better anatomy grade performance, regardless of students' learning style." This new research implies that using specific study strategies is more effective that applying strategies aligned to your learning style. Explore active study strategies that can be applied in specific ways to the courses you're taking in Check Out These Links. Learn more about the recent research on learning styles in Related Links.

RELATED LINKS:
Another nail in the coffin for learning styles

Here's what it takes to get better at learning
What can you do to get better at learning? A panel of professionals gathered at the Aspen Ideas Festival to share their thoughts on what people can do to get better at learning. Hint— it includes struggle, being curious, practice and belief in yourself. Learn more in Related Links.

RELATED LINKS:
What Can People Do to Get Better at Learning?

No internship this summer?
An internship is an awesome experience for college students. But, that may not be what's on tap for you this summer. Do you need some ideas on how to spend your summer? Our friend, The College Info Geek, has some great suggestions! Learn more in Related Links.

RELATED LINKS:
How to Make the Most of an Internship-less Summer

Spending your summer at the lake?
Summer session classes are intense, that's for sure. Five or eight-week courses fly by. You'll want to stay organized or you can get behind fast. Time management is one of the most important skills you can develop in college. Using time management strategies to stay organized during summer session is just as important as any other time during the school year.
The University of Guelph has developed a comprehensive guide for time management which will give you helpful strategies to get started. Learn how to plan your time, stay on track and control procrastination. Learn more in Related Links.

RELATED LINKS:
University of Guelph Time Management Guide

Summer tutoring
The learning center will provide tutors and writing consultants during the summer for writing, math, chemistry, physics, computer, biology and accounting. Academic success coaching will also be available for students who want help applying and improving study skills. Stop by the learning center in Room A-1044 for assistance or call 440.525.7019. Summer hours are listed on the learning center homepage. Link to them in Related Links.

RELATED LINKS:
Learning Center Summer Hours

Just for fun: No regrets!
Jessica Kane sums it up nicely, "We know hindsight is always 20/20, but it becomes particularly practical when that hindsight can be used to benefit someone else's foresight."
Kane gathered advice from her colleagues regarding the decisions they made in college and lays it out for you to browse in Huffpost College article, "The Only College Advice You'll Ever Need," Nov. 6, 2013. Learn more in Related Links.

RELATED LINKS:
The Only College Advice You'll Ever Need