NEWS YOU CAN USE

You can learn anything!
Khan Academy is an online education platform resource where you can learn about math and many other subjects for free! They've started a relatively new initiative called, "You Can Learn Anything." The mission is to "unlock the world's potential." What does that mean for you? The idea of the initiative is to remind students, whether you are facing challenges with learning in college, or anywhere for that matter, to keep in mind that you were born to learn, and struggle is part of the process that eventually leads to your success. Be inspired! Learn more in Related Links.

RELATED LINKS:
You Can Learn Anything

Good news! You're probably smarter than you think!
Think for a moment about something you've gotten better at doing this semester. How did it happen? Did you rework something you got wrong, dig deeper for solutions or seek help? Perhaps you did well on a math quiz having finally mastered how to solve for x. One thing for sure, you didn't give up even though you may have wanted to. Quitting was not an option you chose. It's important to reflect on how you manage challenges. Do you turn them into opportunities? Do your failures help you grow and do better next time? If so, these are the characteristics of a person with a growth mindset, i.e., someone who believes they can develop their abilities.
Research continues to prove that intelligence is not fixed, but rather, something that is capable of being developed and made stronger through hard work and persistence. Think of things you do that make you stronger, like going to class when you'd rather stay in bed on a cold morning, working through lecture concepts you don't understand, deciding to join the math-in-minutes table to practice math problems, or using instructor criticism to move forward; these are all excellent ways to challenge yourself to keep moving toward your goal! Learn more about growth mindset from the expert herself, Carol Dweck, in Related Links.

RELATED LINKS:
Growth Mindset

Need to make some changes? Try this!
Learning from your mistakes is one thing, knowing how to apply strategies to help you be more successful is another thing! Get started by considering your learning style. Dictionary.com gives the easiest definition:
"Learning style is an individual's unique approach to learning based on strengths, weaknesses, and preferences."
There are four basic learning style categories, all based on how you use your senses to acquire and process information: visual, auditory, read-write or kinesthetic learner. Once you determine your preferred learning style, you'll want to take note of which learning activities best support your learning preference. Take the VARK questionnaire and explore the corresponding study strategies in Related Links.

RELATED LINKS:
How do I learn best? VARK Questionnaire and study strategies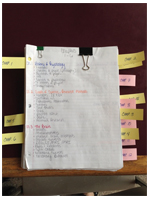 How does getting organized help you be a better student?
A key learning strategy is the act of organizing information because it helps produce desireable outcomes! Physically organizing material, by making charts, lists, concept maps or piles requires you to actively compare, contrast and make connections as you sort through information— a challenge in and of itself and one that forces you to make sense of information you don't understand. The University of Victoria has developed a handout that captures and describes both the benefits of organizing information you are trying to learn and strategies to help you do it. Learn more in Related Links!

RELATED LINKS:
Strategies for Organizing Information

John Legend earned his success by failing many times over
John Legend—yes, that John Legend, shares how the power of working through setbacks contributed to his career success. He freely admits that making mistakes and experiencing failure were both an essential part of the process to get where he is today. Even more important was the effort he applied to make learning from those mistakes meaningful, propelling him to make changes that moved him forward. Think about the effort you put into your learning in college. What might you do differently?

RELATED LINKS:
John Legend: Success through effort
MARK YOUR CALENDAR

March 27, 2017
Follow us on Twitter
@LCCLearningCntr

March 28, 2017
Business & It Career Fair
10 a.m. - 1 p.m.
at room A-2100
MORE INFO...

March 28, 2017
Critical thinking for college success
College Success Workshop, register in myLakeland Schedule It. Walk-ins welcome!
1-2 p.m.
at room A-1040a
MORE INFO...

March 29, 2017
Basic Computer Skills
College Success Workshop, register in myLakeland Schedule It. Walk-ins welcome!
Noon - 1 p.m.
at room A-1040a
MORE INFO...

March 29, 2017
Tips for textbook reading
College Success Workshop, register in myLakeland Schedule It. Walk-ins welcome!
1-2 p.m.
at room A-1040a
MORE INFO...


CHECK OUT THESE LINKS!
Khan Academy
Struggling with a particular subject or just need a quick review, check out these free lessons online.
Purdue Online Writing Lab
Everything you need to get your writing skills in top shape.
LAKELAND RESOURCE LINKS

Suzanne Speyer
Student Success

Help Desk

Student Success

Transfer Center